The most anyone can hope to accomplish is to improve their lives and the lives of those around them. For me, technology and empowering others through technology are the ideal tools for achieving that goal.
Personal Mission Statement
Andrew Curioso is a software engineer and author that specializes in cutting-edge web-scale networked technologies.
He is the Vice President of Engineering at myVBO, the team behind Ziftr. As employee #3 he has helped grow the company's software engineering team 10x, has implemented systems for improved team workflow and productivity, and architected the launch of over a dozen new products.
Additionally Andrew is the lead author of Expert PHP and MySQL
by Wiley (2010) and Shortcut: Ajax with PHP5 by O'Reilly Media (2007).
Andrew has long history in the web industry. Including being at the ground-floor for the development and launch of Webon by Lycos and being an early adopter of Ajax and "Web 2.0" technologies over a decade ago. Implementing data-driven web applications at a time when it was still considered risky and cutting edge.
He has continued that tradition by being a supporter and early adopter of new technologies. Including cloud computing (2012), smart homes (2006), crytocurrency (2014), and countless others (HTML5, web sockets, noSQL, etc.)
He has a degree in Computer Science from Wentworth Institute of Technology in Boston and is known from time to time to teach as an adjunct professor in New Hampshire. However, most of his learning has been through books, expirimentation, and self-study.
Andrew's passions lay in finding new an innovative ways to solve problems and improve people's lives using existing and often ground-breaking technologies.
If you would like to get in touch with Andrew, you can find him online and off: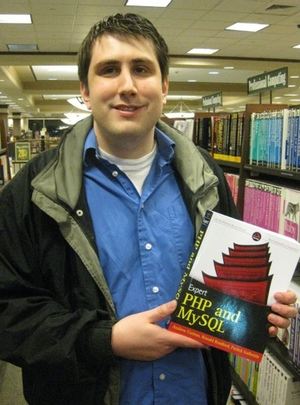 NHPHP is one of the premier technology meetups in the state of New Hampshire providing free high-quality talks each month.

by Andrew Curioso, Ronald Bradford, Patrick Galbraith
Expert PHP and MySQL covers advanced PHP and database topics ranging from PHP code, to writing extensions and more.

by Andrew Curioso
This shortcut was an early entry into both the world of Ajax and eBooks. It introduced the concepts of using Ajax with PHP from front to back.